Share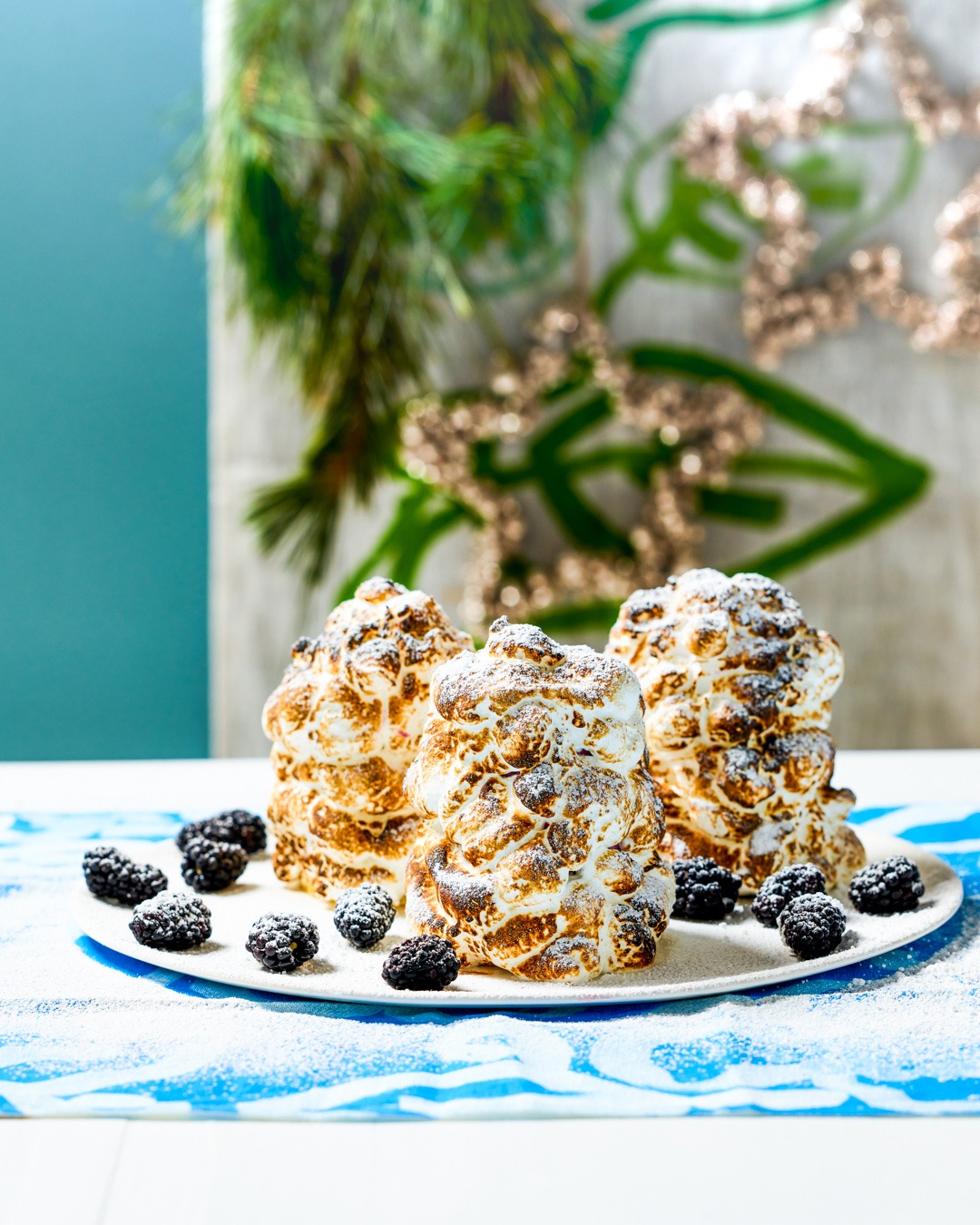 Madeira Cake, Elderflower and Blackberry Bombe Alaska

Preparation time: 30 minutes
Cooking time: 30 minutes
Serves: 8
4 thick slices Madeira cake*
1kg frozen blackberries
1 cup elderflower cordial
Juice of 1 lemon
2 cups cream
395g can sweetened condensed milk
3 tsp vanilla paste
150g creme fraiche
4 egg whites
½ tsp cream of tartar
150g castor sugar
1 Tbsp glucose syrup
additional blackberries, to serve
METHOD
1 Choose 8 individual 220ml moulds for your ice-cream, then select a round biscuit cutter of the same size and use it to cut the Madeira cake slices into 8 discs. Reserve trim for another use. Lightly damp the moulds and line with cling film.
2 Combine the blackberries, elderflower cordial and lemon juice in a medium saucepan and set over a moderate heat, simmering for 25 minutes until the berries are softened and the mixture has reduced by one third. strain through a fine sieve and set aside to cool completely.
3 Combine 150ml cream with the sweetened condensed milk, half the vanilla and creme fraiche in a bowl, then whisk until smooth. Whip the remaining cream to stiff peaks, then fold in gently with the blackberry puree. Fill the 4 lined moulds and freeze, freezing the remaining mixture in a loaf pan for another use.
4 Combine egg whites and cream of tartar in the bowl of an electric mixer fitted with the whisk attachment, then beat gently until foamy. Meanwhile, put the sugar, glucose and a ¼ cup water in a medium saucepan and cook over a high heat until 121°C when tested with a probe thermometer. Add in a steady stream to the egg whites while beating on medium speed, add the remaining vanilla, then beat until completely cold.
5 Turn out the blackberry ice cream moulds onto Madeira cake discs. Lower the meringue into a piping bag fitted with a ½ cm nozzle, then pipe a decorative pattern around the cake and ice-cream. Scorch lightly with a blowtorch, then serve with additional blackberries, and top each with a star.
*Store-bought or homemade.