Share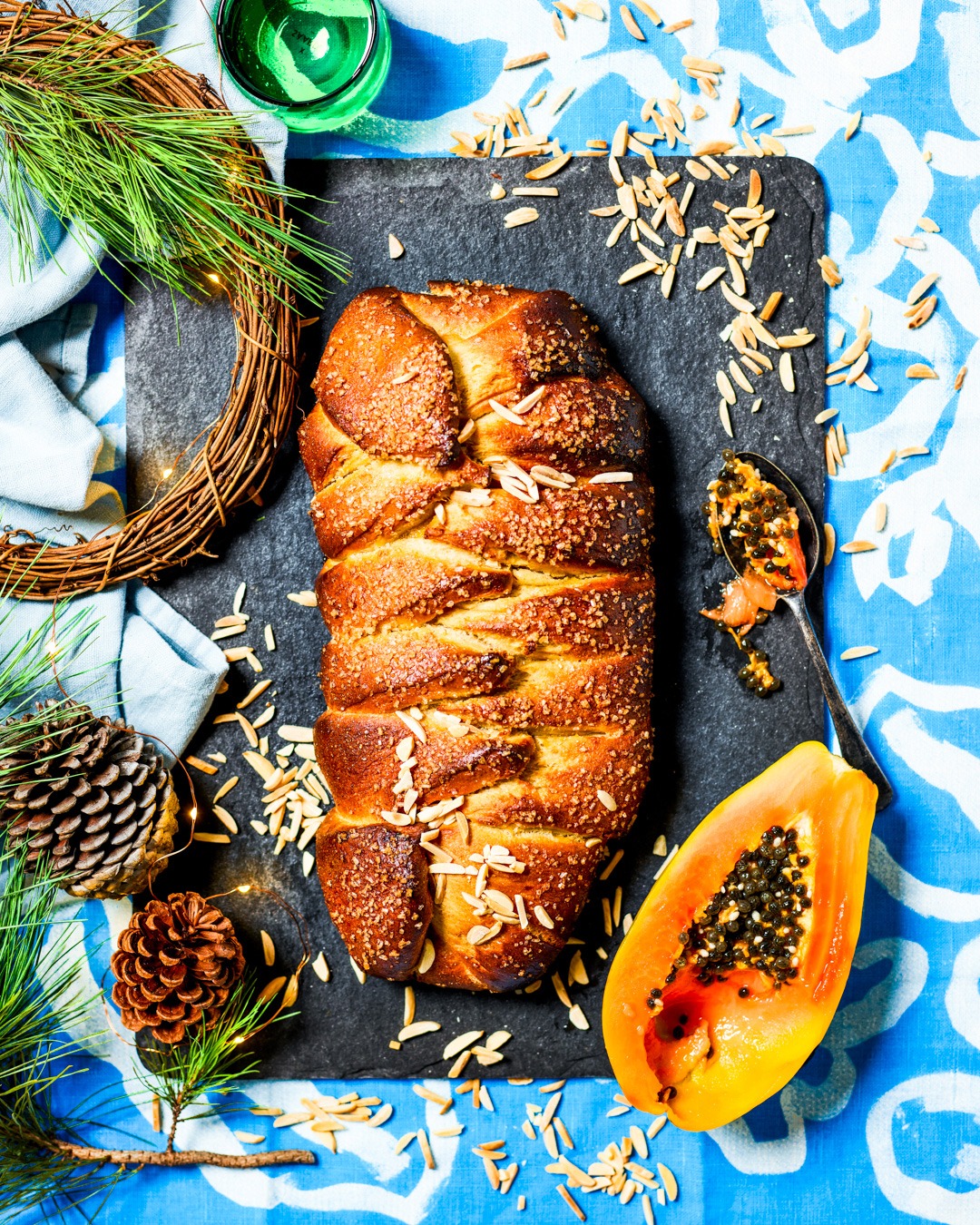 Mahlap Bread

Preparation time: 20 minutes
Cooking time: 30 minutes
Makes: 2 loaves
1 sachet (7g) instant dried yeast
400g bakers' flour
225g kefir
100g raw castor sugar
1 ½ tsp salt
1 Tbsp Mahlap*
125g unsalted cultured butter (at room temperature)
3 eggs
2 egg yolks
175g rye flour
Demerara sugar, for decorating
METHOD
1 Preheat oven to 190°C, combine yeast with 1 Tbsp warm water and 1 Tbsp of the flour in a small bowl. Stand for 10 minutes. Transfer to electric mixer bowl, with the remaining flour, sugar, mahlap and salt, then stir to combine.
2 In a second bowl, combine the kefir, 2 eggs and 2 yolks, whisking until smooth, then add to the mixer in a steady stream, using the dough hook. When the liquid has almost absorbed begin adding butter, 1 tsp at a time, alternating with rye flour until all combined. Knead until completely smooth, cover with cling film and set aside for 1 ½ hours until doubled in size.
3 Divide the dough into two pieces and roll each out to a rectangle 25cm by 18cm. Cut six 5cm long incisions into the side of each rectangle, then fold those sides in, alternating left and right, to braid.
4 Transfer to a lined baking sheet. Whisk the remaining egg and brush onto pastries, then set aside for 30 minutes. Brush again with egg, sprinkle with Demerara sugar, then bake for 25-30 minutes until deep golden. Cool on a wire rack and serve warm.
COOKS NOTES:
*Mahlap is an aromatic powder made from the seeds of wild black cherries. It is common in eastern European, Greek and Middle Eastern cuisine as an addition for baked goods. You'll find it easily online or at middle eastern grocers