Share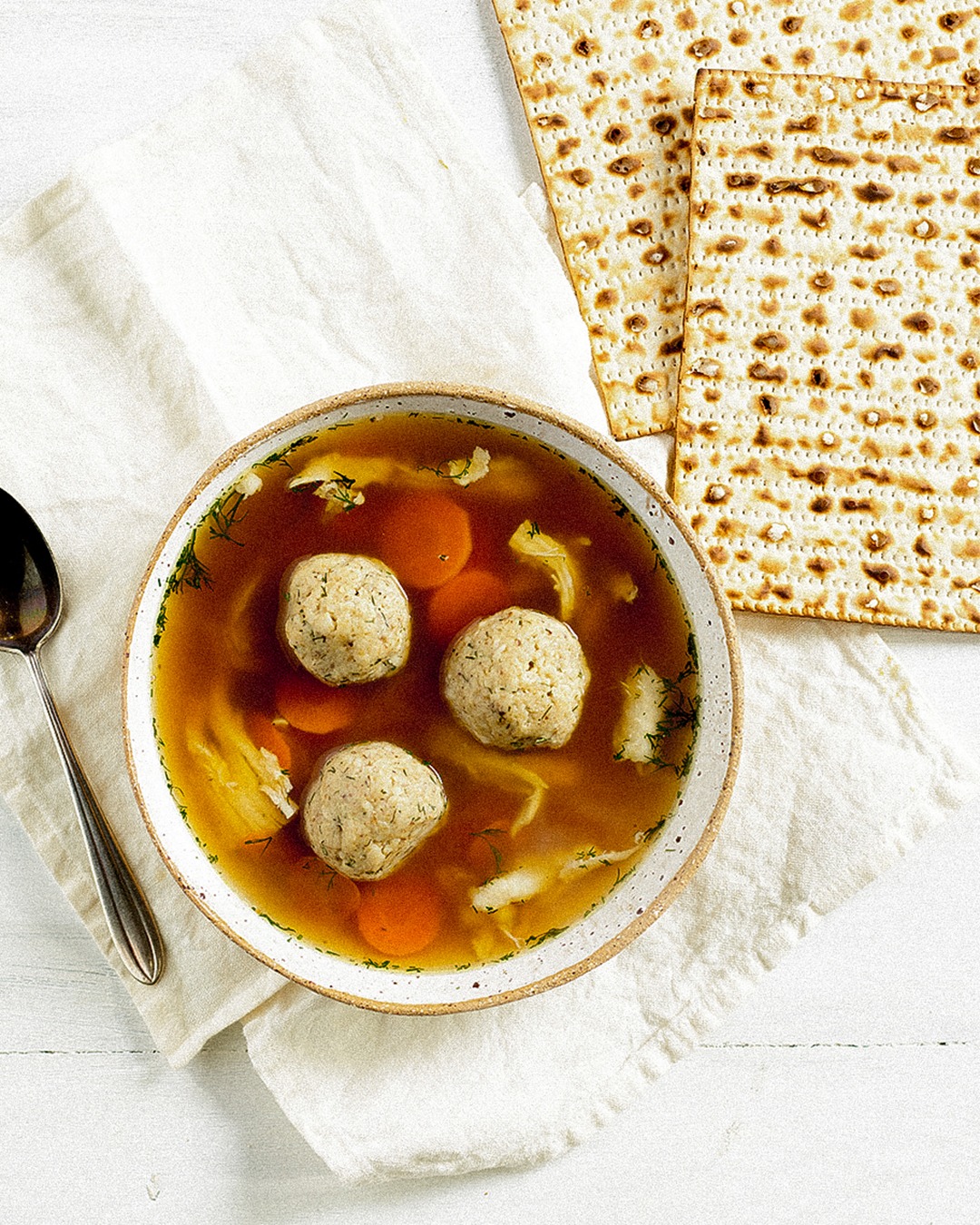 Matzo Ball Soup

Preparation time: 45 mins
Cooking time: 7 hours
Serves: 8
INGREDIENTS
2kg chicken bones
4 heads garlic, chopped
6 brown onions, chopped
2kg chicken wings
4 sticks celery, chopped
4 carrots, peeled
4 sprigs parsley
2 tsp black peppercorns
6 eggs
½ cup schmaltz*
½ cup chicken stock
1 bunch dill, chopped
sea salt flakes and freshly-ground white pepper
1½ cups matzo meal
8 chicken thighs
4 parsnips, peeled and chopped
METHOD
1 Preheat oven to 180°C. Combine the chicken bones, half the garlic and half the onions in a large saucepan, cover with cold water, then bring to a simmer. Cook for 3 hours, then strain though a fine sieve.
2 Arrange the chicken wings on an oven sheet, then bake for 1 hour, until deeply golden. Place in a large saucepan with the strained chicken stock, remaining onion and garlic, celery, half the carrots, parsley and peppercorns. Top up with water if needed, then set over a moderate heat and simmer for 3 hours. Strain through a fine sieve.
3 Mix the eggs, schmaltz, stock and half the dill in a bowl and whisk until smooth. Season with salt and pepper, then mix with the matzo meal. Set aside for 30 minutes then form into balls. Poach in salted water for 30 minutes, until plump and tender.
4 Strain the stock through a fine sieve into a second saucepan with the chicken thighs and parsnips, then simmer gently for 40 minutes. Strain. Finely slice the carrots and add to the saucepan with the strained soup, then cook briefly. Shred the chicken and return to the soup with the dill and matzo balls.
*Schmaltz is the traditional term for chicken fat. If unavailable, use duck fat or vegetable oil.