Share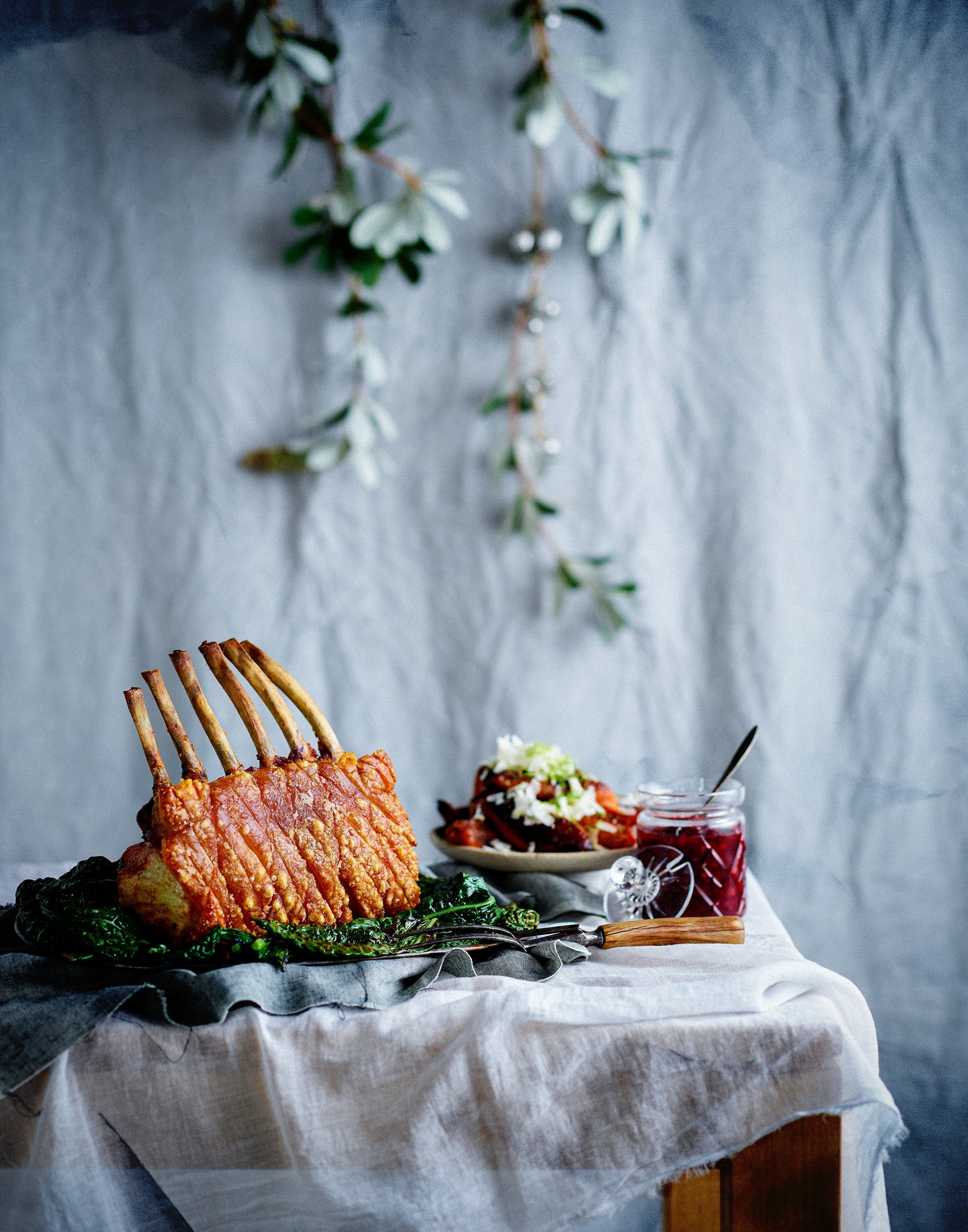 PERFECT CRACKLING PORK RACK ROAST

SERVES 8
INGREDIENTS
8-bone pork rack, French trimmed (approx. 3 kg)
2 Tbsp extra virgin olive oil
2 tsp fine salt
METHOD
1 Purchase your pork at least one day before you intend to cook it. One day ahead, use a sharp knife to cut fine parallel lines through the skin, then arrange on a wire rack over a tray and place unwrapped in the fridge overnight to dry out.
2 Preheat oven to 230°C. Drizzle the pork with oil, then rub with fine salt. Place on a rack over an oven tray, then bake for 30 minutes. Reduce heat to 200°C, then bake for a further 45 minutes. Increase heat to 230°C again, then bake for a final 20 minutes. Rest in a warm, but nit hot, place for 20 minutes, before serving.
–––––––––––––––––––––––––
MAPLE-GLAZED SWEET POTATOES WITH LIME AND COCONUT
INGREDIENTS
8 small sweet potatoes
100g unsalted butter
½ cup maple syrup
finely-grated zest and juice of 2 limes
¼ tsp ground cardamom
sea salt flakes and freshly-ground white pepper
¼ cup coconut flakes
METHOD
1 Preheat oven to 180°C. Arrange the sweet potatoes in a lined oven tray and bake for 90 minutes, until the skin is dark and the sweet potatoes are tender. Set aside to cool for 15 minutes, then use a small knife to remove the skins. Arrange in a lined baking dish.
2 Meanwhile, combine the butter, maple syrup, lime juice and cardamom in a small saucepan and bring to a simmer. Drizzle over the sweet potatoes, then bake for 20 minutes. Season with salt and pepper, then scatter with coconut flakes and lime zest to serve.
–––––––––––––––––––––––––
SAUTÉED TUSCAN KALE IN GARLIC AND LEMON
INGREDIENTS
2 bunches Tuscan kale (cavalo nero)
¼ cup extra virgin olive oil
finely grated zest and juice of 2 lemons
2 Tbsp pine nuts
8 cloves garlic, minced
1 bunch chives, finely sliced
METHOD
1 Sauté the kale in a large frying pan over a high heat fin extra virgin olive oil for 3 minutes, until just wilted. Add the lemon zest, pine nuts and garlic and cook for 2 more minutes. Drizzle with lemon juice, scatter with sliced chives, then serve.